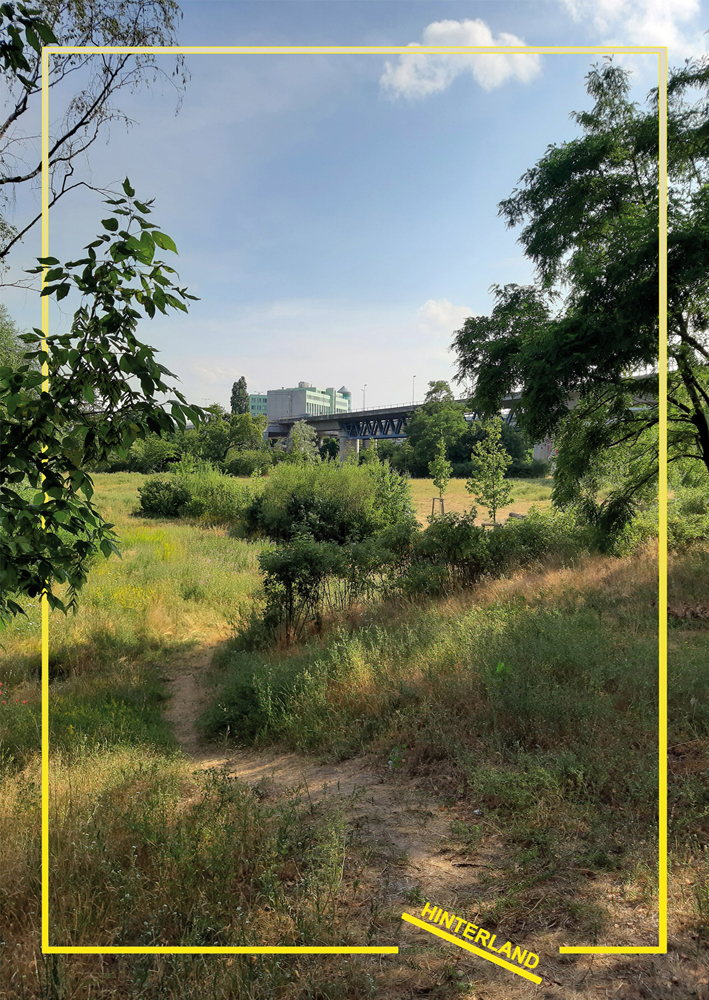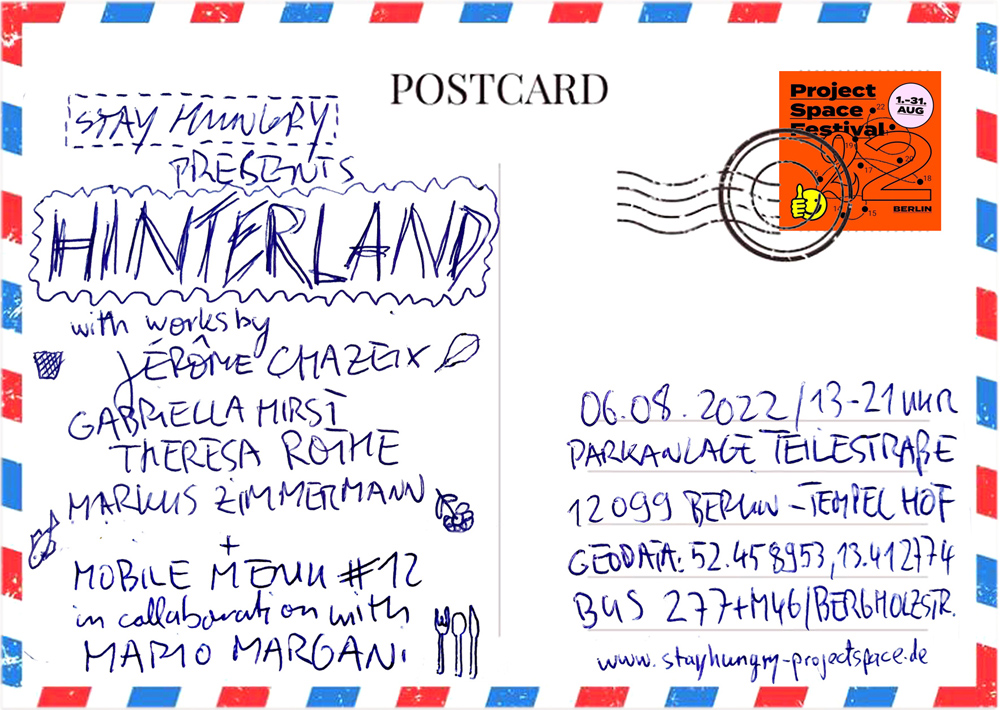 stay hungry presents:
  HINTERLAND  
with works by:
Jérôme Chazeix
Gabriella Hirst
Theresa Rothe
Markus Zimmermann 
+ Mobile Menu #12
-4 Teile Grill-
in collaboration with Mario Margani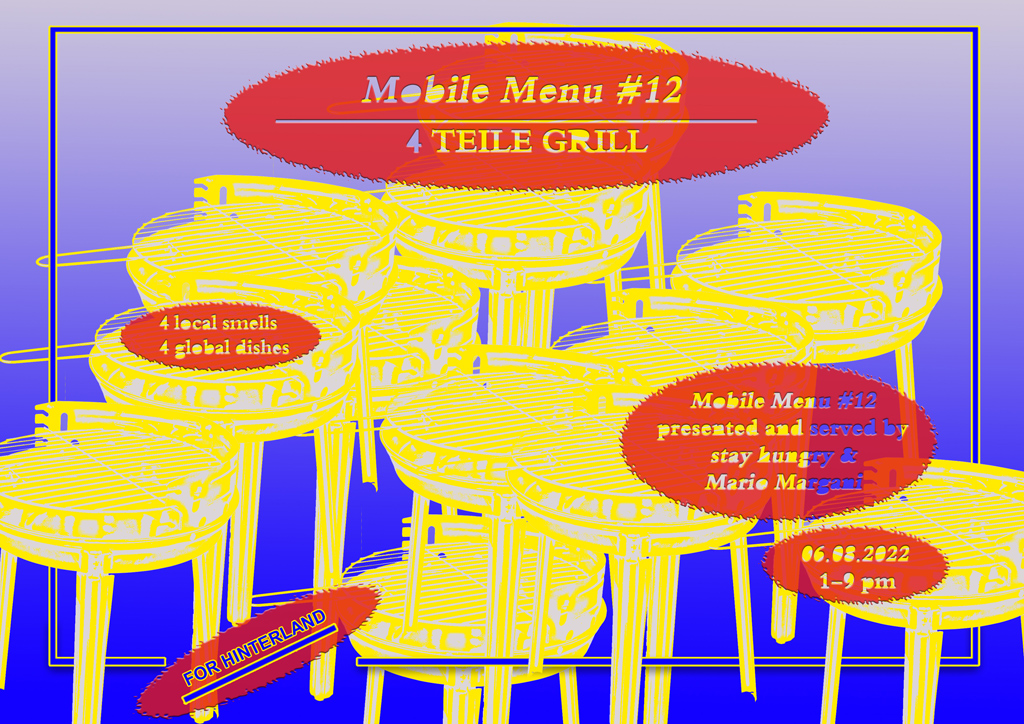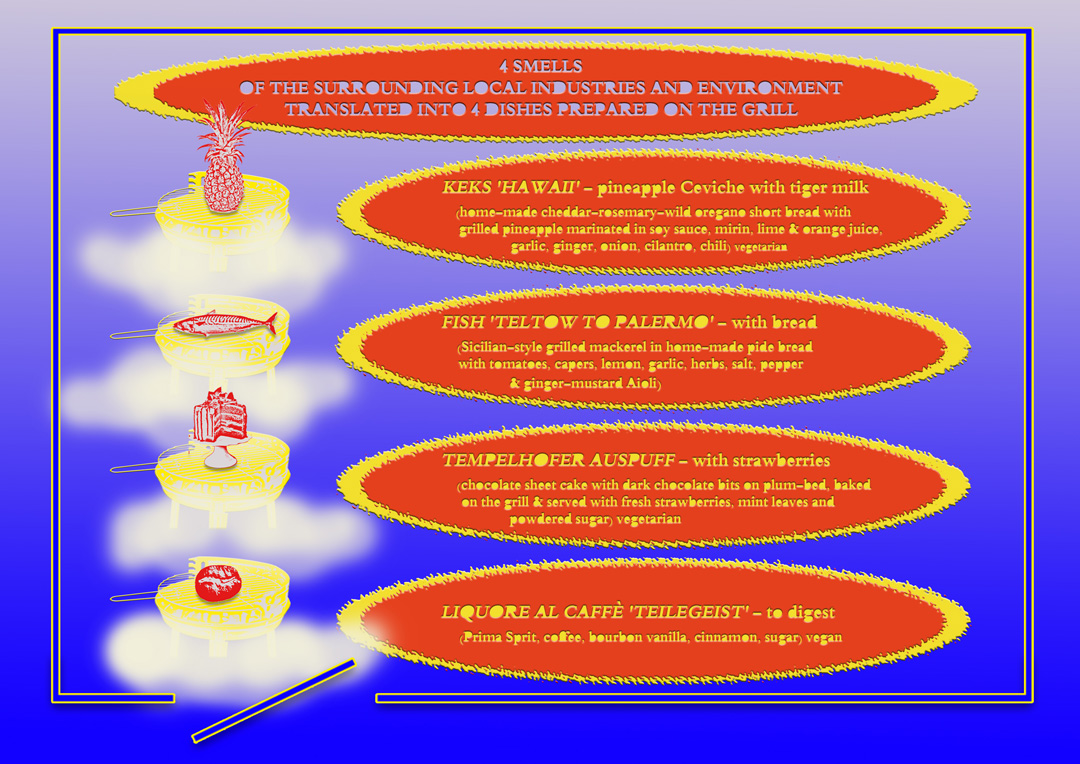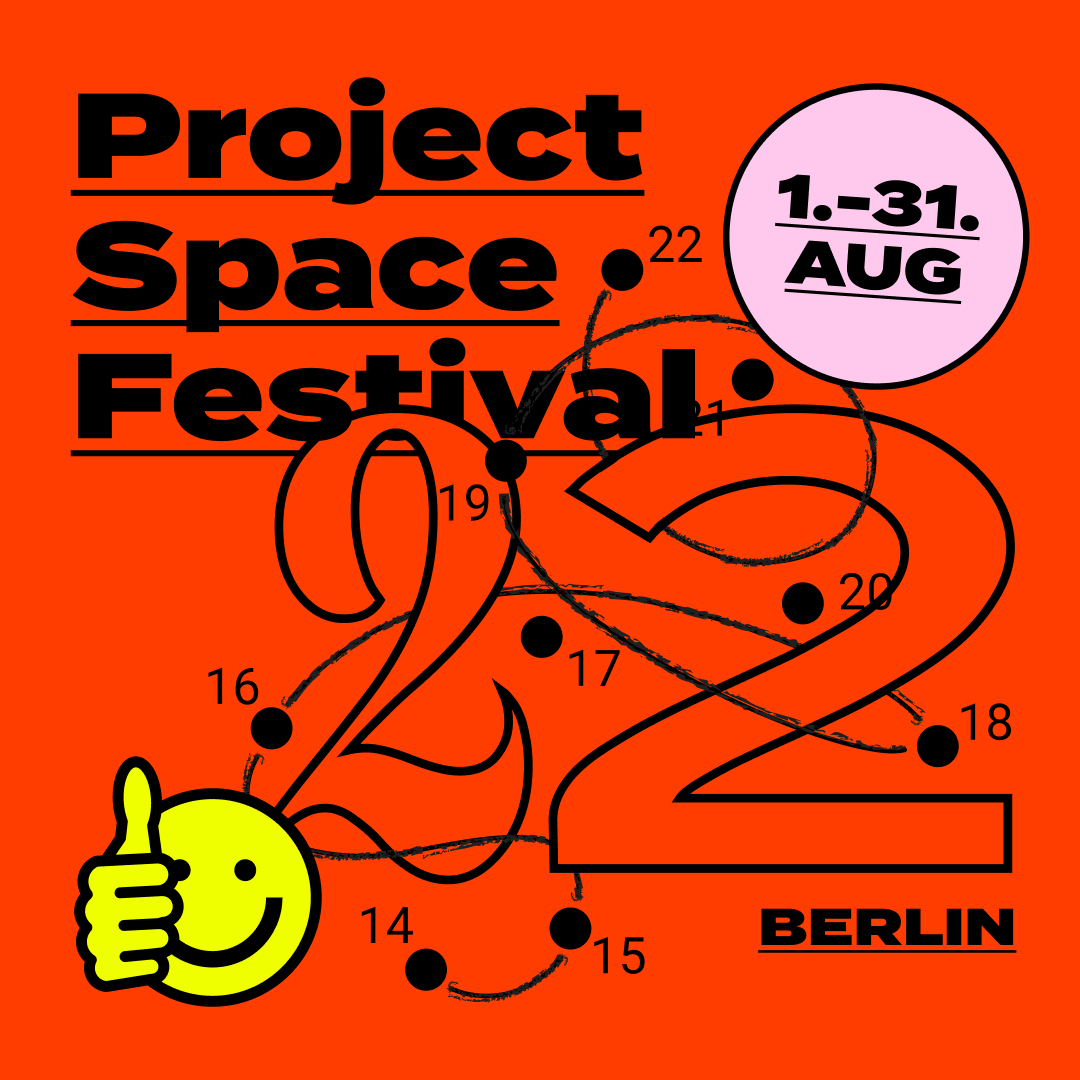 Saturday, 06.08.22
1-9 pm
Parkanlage Teilestraße
(below the highway bridges)
12099 Berlin Tempelhof
Geodata: 52.458953, 13.412774 or FC57+H4J
Public transport: Bus 277 & M46
Bus stop: Bergholzstraße
stay hungry presents the day-long artistic intervention Hinterland in the Parkanlage Teilestraße on the border of Tempelhof and Neukölln with site-specific works by Jérôme Chazeix, Gabriella Hirst, Theresa Rothe and Markus Zimmermann, as well as the accompanying stay hungry-Mobile Menu #12- 4 Teile Grill in collaboration with Mario Margani. 
The intervention Hinterland takes place on a former industrial site between Gottlieb-Dunkel-Straße, Teilestraße and the Teltowkanal, which was rededicated about 20 years ago as the so-called Parkanlage Teilestraße and is located below the A100 freeway bridges in a seemingly secluded area.
On the one hand, the park itself is connected to the surrounding residential and industrial area by paths, but at the same time it is located in a kind of hidden niche between the surrounding streets, the canal and train tracks and is characterized by several seemingly randomly distributed elements such as old tree trunks, remnants of track beds, large boulders, a fenced pond and islands of bushes, as well as a temporary tent camp, giving the place a stage-like character. 
Due to its multidimensionality in relation to the local conditions of the site itself as well as to its users, the Parkanlage Teilestraße represents a public space of action that is located on the threshold of nature and urbanity, of transformation and history, and of inside and outside, and therefor connects seemingly contradictory aspects with each other. The busy A100 highway bridges running in the background frame the multi-layered scenery and underscore the starkly contrasting juxtaposition and can be seen metaphorically as a kind of transitional architecture. Despite the seemingly secluded location, the Hermannstraße S-Bahn station is only about 5 minutes away by bicycle.
Hinterland wants to focus on the situative engagement and temporary appropriation of this hidden park by the four participating artists Jérôme Chazeix, Gabriella Hirst, Theresa Rothe and Markus Zimmermann and their site-specific contributions in connection with the surrounding social and urban environment. Against the backdrop of an increasingly precarious spatial situation for cultural producers, the intervention thus aims to explore questions about the significance of urban niches and their usability as alternative spatial concepts.
The intervention will be culinary accompanied by Mobile Menu #12 – Teile Grill  and invites visitors to a free shared meal, linger and discover the site. The food presented interprets 4 smells of the surrounding local industries and environment that waft through the air from time to time at the site, and translates them into 4 dishes prepared on the grill.
Enter the site at your own risk!
---
Jérôme Chazeix combines and superimposes different mediums in order to reveal sets in which the public dives into total immersion and in which actors, through alternately choreographed or spontaneous performances, take possession of the device. These works of art are meant to be "total" in the sense that performers and audiences both become protagonists of parallel worlds finding a match in the objects around them. The public gets carried away, enveloped, in search of meaning, halfway between new age desire and social reality. Jérôme Chazeix (french - german) was born in France in 1976 and has been living in Berlin since 2000. Between 1994 and 2002 he studied Fine Arts at the University of Saint-Etienne (FR) and graduated with a thesis on Synthesis of the Arts (Gesamtkunstwerke). Between 1995 and 2000 he in parallel pursued and graduated with a Diploma in Fine Arts from the School of Art in Saint-Etienne (FR). Between 2000 and 2004 he was «Meisterschüler» (post diploma) with Katharina Grosse at the Berlin Weissensee School of Art. Jérôme Chazeix is working and exhibiting his work internationally. He has been selected for numerous grants and Artist Residencies such as Matsudo (JP), Kinshasa (CG), Lagos (NG), Bergen (NO), Bangalore (IN), Helgeland (NO), Amsterdam, Vienna, Frankfurt, Ravensburg, Meinersen, Arnis (GE) and Vilnius (LT). His recent solo exhibitions include: Kunsthaus Erfurt, Kleppart - Rooms for Textiles and Culture of the University of Paderborn, Label201, Rome (IT), Galerie Herold, Bremen and DISKURS, Berlin. His work was also included in the Lagos Biennale 2 (2019) and Yango Biennial of Kinshasa (2022).
Gabriella Hirst (she/her) is an artist from Australia. She works primarily with moving image, performance, and with the garden as a site of critique and care. Gabriella's practice explores capture and control. Her most recent projects consider possible relationships between plant taxonomies, landscape painting, art conservation and nuclear history. She recently opened her first institutional European solo exhibition at the Kunsthalle Osnabrück, and in coming months will take a position as a artist in the RADAR ecological thinking program, Loughborough University, UK. Gabriella studied painting and media/performance in Australia and at the Slade, London, and is currently an associate lecturer in Media Studies at the Royal College of Art School of Architecture, London.
Theresa Rothe (*1990 in Dresden) works and lives in Leipzig. In the summer of 2019, she completed her diploma studies in fine arts in the sculpture class of Prof. Wilhelm Mundt at the Dresden University of Fine Arts. Since then, she has been a master student with Prof. Wilhelm Mundt and was awarded the Saxon State Scholarship for Master Students. Her artistic works combine various media, in which she combines sculpture, drawing, installation, painting and performance. These deal with the artist's own body, curiosities of everyday life, observations of animals and the voyeuristic gaze, reflecting and questioning them. Dream images and fantasies often form the starting point of her works, which culminate in an exploration of the unconscious and are characterized by a strong ambivalence. The artistic process is a way for Theresa Rothe to deal with her inner world and to give shape to things for which she cannot find words, in order to ultimately come closer to herself. The artist thus grants the viewer an intimate insight into her inner world, which also makes conflicts visible - the tension that arises when things or worlds collide that do not actually belong together. The back and forth between extremes, which makes a precise classification difficult, interests the artist in particular. Thus, a certain ambivalence is always inherent in her being. These nuances of surrealistic and personal experience create a field of tension in her works that oscillates between the grotesque and play, thesis and antithesis, dream and reality, inside and outside. The artist invites the visitors to deal with their own fears, desires and fantasies.
Markus Zimmermann is a sculptor working mainly in Berlin and Frankfurt. As a solo artist and as part of collectives such as art ashram and SUPERFILIALE, he explores the possibilities of social co-determination and participation. Currently he is dealing with architectures of transition, so-called thresholds, locks and portals. For this he designs models, which he questions together with residents, By building with leftover materials, Zimmermann's art is characterized by sustainability and draws on the resources and potentials of the respective urban space.
In 2010/11 he was awarded the ars viva prize of the Kulturkreis der deutschen Wirtschaft. Markus Zimmermann exhibited at the Bonnfanten Museum in Maastricht, the Kunstmuseum Stuttgart and the Kunsthalle zu Kiel, among others. He realized solo performances at KW Institute for Contemporary Art in Berlin and at the Centre Georges-Pompidou in Paris.