stay hungry
@
Sangnual lap, Bangkok
 Michel Aniol & Meike Kuhnert

stay hungry 
@ 
Sangnual lap
273/4 Charoen Krung Rd, Khwaeng Pom Prap, Khet Pom Prap Sattru Phai, Krung Thep Maha Nakhon 10100, Thailand
+66 2 221 0454
https://maps.app.goo.gl/LysaZ
Friday, 1st of February 2019/ 5 pm till late
Exhibition period:
2nd - 17th of February 2019, Mon-Sat, 1-5 pm
+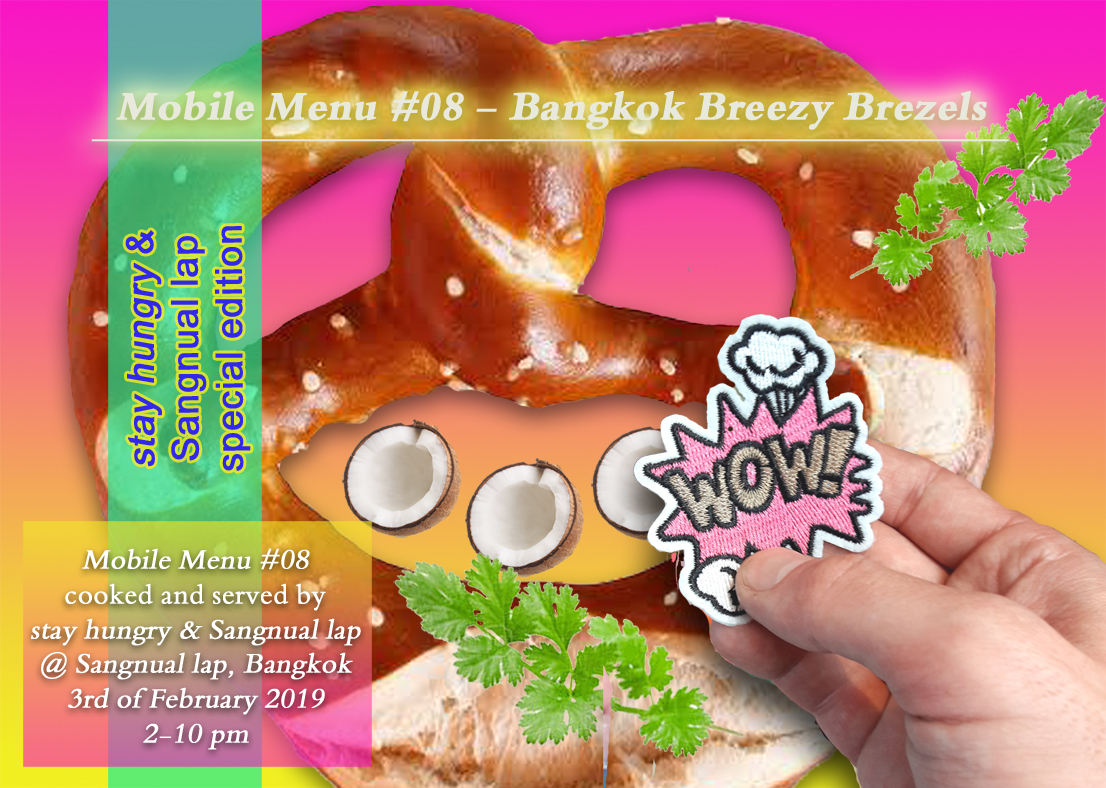 Sangual lap presents the new collaborative project Second Life by Berlin based visual artists Michel Aniol and Meike Kuhnert
The project

started with a research trip to Thailand for six weeks from December 2018 until January 2019. At this the artists

investigated aspects of how foreign visitors and their various cultural backgrounds have affected the traditional way of living in Thailand (and vice versa) in the course of time and which forms of commingling of domestic and international cultural elements did and do evolve from this.




In that sense Thailand is a fascinating place to deepen this topic as it is one of Southeast Asia's leading emerging economies due to its rapid economic development in recent decades, global trade and growth of tourism that are connected with a more or less big influence of international visitors and their respective cultural backgrounds. Through that influences local preserved traditions mark at different levels interesting transitional forms of material culture. Furthermore, points of contact of different cultural, regional and supra-regional influences are to be considered, which have repeatedly played an important role in the historical context of Thailand during the last centuries up until now. The fact, that Thailand is the only country in the region which was never under direct colonial influence by western countries and rather trying itself to import useful elements of foreign countries and their respective social, technological, cultural and architectural goods and pawns, is another interesting aspect of the research topic. 
All the artworks on display at Sangnual lap were developed and produced on that journey.
---
The exhibition Second Life covers all five floors at Sangnual lap showing a large-scale installation by Meike Kuhnert and sculptural works, paintings and a site-specific installation by Michel Aniol. At several points of the exhibition the artists' works are overlapping each other initiating a dialogical get together.
The installation House of Tangle - all-in-one device, suitable for every purpose by Meike Kuhnert was made of fabrics, patches, images, trash, patterns and textiles that she found and collected in Thailand. The used material was sewed together by hand and formed one big textile collage. As a sized composite piece the installation tangled through the architecture of the building and created a connection between all floors. It led the viewer through the building and developed a visual story that can be physically experienced over five floors. On the fourth floor the fabric string unfolded and covered all the walls of the room creating an introspective and homely feeling. Attached by cable ties to the houses' infrastructure of electrical cables and sprinkler system the fabric constructed a new architecture of soft walls. The fabrics and textiles which were found in the nearby areas contain various cultural codes of countries such as China, India, Malaysia, Vietnam, Thailand, Japan, United States, Germany, England, France and Spain along with other European countries. Kuhnert analysed and separated those codes and intermingled them generating a conglomeration of stories which she encountered on the research trip. The chosen materials were handled in a traditional and time-consuming way by hand sewing. This approach reflects on a traditional domestic life style that is in the same time contrasting with a modern life style of a globalised world.

Michel Aniol showed the series Cultural Displacement Complex consisting of six transfer-printed canvases as well as the sculptural work Mirrors and Markers of Charoen Krung Road, that is dealing with traditional Chinese lanterns. The third work by Aniol on display was the spatial and site-specific installation Backstage Society - Truth and Lies, that was formed by a range of various masks and was installed inaccessible at the backside of Kuhnert's fabric collage.
These three works by Aniol refer to each other and blend into a mix of personal experiences and the research results in Bangkok and Thailand. In the beginning of the research phase Aniol focused on taking and collecting photographs of objects and situations in Bangkok that contained a variety of double meanings in a cultural context and were potentially able to be reflected on multi-perspective views of interpreting their respective cultural circumstances and potential prejudices.
For Cultural Displacement Complex a part of this footage material was used to be transfer printed by hand on classical canvases, combining photographs with partly painted transparent and half-transparent layers and forming images out of it that blend into each other and thus marking the idea of simultaneity, superimposition and commingling of various found cultural elements from different origins in Thailand.
Following this idea Aniol used Chinese lanterns that can be found all around the exhibition venue in the public space of Chinatown (as well as almost anywhere else in Thailand) for his work Mirrors and Markers of Charoen Krung Road. Those lanterns were allienated by transfer printing parts of the previously collected footage material of the surrounding area on the lanterns' surfaces, integrating the idea of a cultural mirror. The duality of Chinese lanterns serving as religious and spiritual as well as profane decorative and business related objects is another important element in the conception of this work.
The installation Backstage Society - Truth and Lies was consisting of various suspended masks, that got moved by a hidden ventilation system and were all purchased in nearby market areas of Chinatown. This work plays with the idea of various cultural "costumes" and codices that many people encounter in their daily life. The main group of the hanging and moving masks is installed unreachable behind a big fabric piece by Kuhnert and can only be discovered by looking through the eyes of the backside of two attached masks on this fabric. In this way the spectators became automatically part of this backstage society by looking through the masks. The work was trying to trigger a self-questioning of the visitors' position in this symbolic constellation.
---
The project Second Life follows the idea and concept of stay hungry which is an art project space founded by Aniol & Kuhnert in Berlin in 2014. Since 2017 stay hungry has been operating in various locations as a nomadic art space trying to combine the specific aura and circumstances of every new site with the shown art works. 
---
แสงนวลแล็ปนำเสนอ !
นิทรรศการ ' Second Life ' โดย Michel Aniol & Meike Kuhnert
และนิทรรศการนี้เป็นส่วนหนึ่งของ Galleries' Night Bangkok 2019 
นิทรรศการ ' Second life ' โดยความร่วมมือของสองศิลปิน visual artists จากกรุงเบอลินประเทศเยอรมัน Meike Kuhnert และ Michel Aniol ซึ่งในโปรเจ็คนี้มีที่มาจากไอเดียโปรเจ็คสเปซ ' stay hungry ' ที่ก่อตั้งขึ้นในปี 2557 ในกรุงเบอลินโดย Meike และ Michel
ตั้งแต่ปี 2560 ' stay hungry ' ได้เริ่มออกเดินทางจัดแสดงผลงานศิลปะในพื้นที่ที่หลากหลายลักษณะ โดยมีความพยายามที่จะนำความคิดในเรื่องของการทำงานศิลปะกับพื้นที่ใหม่ๆที่มีลักษณะพิเศษที่เฉพาะเจาะจงของพื้นที่นั้นๆมานำเสนอ ซึ่งโปรเจ็คนี้ได้เริ่มต้นโดยการรีเสริชในระยะเวลา 6 อาทิตย์ในประเทศไทยตั้งแต่เดือนธันวาคมปี2561ที่ผ่านมา ซึ่งในนิทรรศการนี้ศิลปินจะทำการสำรวจความหลายหลายของวัฒนธรรมและชีวิตความเป็นอยู่ในแง่มุมต่างๆโดยสายตาของชาวต่างชาติที่มาเยี่ยมเยือนซึ่งมีผลกระทบต่อวัฒนธรรมและวิถีชีวิตแบบดั้งเดิม ในทางกลับกันรูปแบบของการพัฒนาทางวัฒนธรรมที่ผสมผสานจากวัฒนธรรมในประเทศและจากต่างประเทศนั้นก็มีองค์ประกอบในทำนองเดียวกัน
โดยผลสรุปข้อมูลของการทำงานในโปรเจ็คนี้จะถูกนำเสนอที่ 
แสงนวลแล็ป ตั้งแต่วันที่ 1 - 3 กุมภาพันธ์ 2562
และนิทรรศการนี้เป็นส่วนหนึ่งของกิจกรรม Galleries' Night tuktuk tour
ในวันที่ 1 กุมภาพันธ์ 2562  
วันเปิดนิทรรศการ วันศุกร์ที่ 1 กุมภาพันธ์ 2562 ตั้งแต่เวลา 6 โมงเย็นเป็นต้นไป
ระยะเวลาเปิดนิทรรศการตั้งแต่วันที่ 1 - 3 กุมภาพันธ์ 2562
---
About Sangnual lap:
เกี่ยวกับ แสงนวลแล็ป
Sangnual 2551 is a lighting and electronics shop, opening in 2008 after a two year mandatory renovation initiated by its location on royal property.
แสงนวล 2551 คือร้านค้าขายไฟฟ้าอุปกรณ์อิเล็กทรอนิกส์ ที่ก่อตั้งเมื่อปี พศ.2551 หลังจากที่มีการปรับปรุงอาคารโดยสำนักงานทรัพย์สินส่วนพระมหากษัตริย์ ตั้งแต่ปี พศ.2549 
Sangnual 2551 formerly known as "Sangnual Electronics" started as a family partnership company operating from 1971 to 2007. With its recent renovation in 2010, Sangnual 2551 has since parted ways with the original enterprise while remaining right beside it.
เดิมทีแสงนวล 2551 มีชื่อว่า " แสงนวลการไฟฟ้า " เริ่มกิจการตั้งแต่ปี พศ.2514 เป็นธุรกิจแบบห้างหุ้นส่วนจำกัดของครอบครัวใหญ่ โดยดำเนินกิจการมาจนถึงปีพศ.2550 ซึ่งมีการรื้อถอนอาคารเดิมและสร้างอาคารใหม่เสร็จสิ้นในปีพศ.2553 และหลังจากนั้นเราได้แยกตัวออกจาก " แสงนวลการไฟฟ้า" มาเป็น " แสงนวล2551" ซึ่งเป็นอาคาร2คูหาติดกันมาเป็น1คูหาเช่นปัจจุบัน 
With the building now having 5 floors, the first two occupied with the storage and daily operations selling lighting equipments and other electronics, the rest was left vacant. Now with the introduction of "Sangnual Lap" to fill the space, we are dedicated to various activities and projects, that acts as a platform for the exchange of ideas and manifestation of various projects and proposals within a landscape of limited space.
จากการที่ในอาคารแห่งนี้เป็นย่านธุรกิจมีพื้นที่5ชั้น โดยเป็นกิจการร้านค้า ' แสงนวล 2551 ' ในส่วนชั้น1 และชั้น2 จึงมีพื้นที่ว่างที่ไม่ได้ถูกใช้สอยในส่วนต่างๆของอาคาร ซึ่งโปรเจ็ค ' แสงนวลแล็ป ' ของเราต้องการใช้พื้นที่ว่างในส่วนต่างๆของอาคารนี้เพื่อเติมเต็มพื้นที่ว่างผ่านจินตนาการถึงพื้นที่ใหม่ๆ เพื่อเป็นการใช้ประโยชน์และเพิ่มการใช้สอยของพื้นที่ผ่านการเปิดพื้นที่กิจกรรมต่างๆ ที่เปิดการแลกเปลี่ยนความคิดสร้างสรรค์ เพื่อหาความเป็นได้ใหม่ๆในสร้างจินตนาการต่อการใช้พื้นที่อย่างจำกัด
Sangnual Lap launched this year, takes its name from 'lapping', the overlaying, enfolding, and overlapping of various components. Sangnual, being the existing name of the storefront, opens a consideration of this store as a location which exists simultaneously in different forms and layers. Diverse spaces, activities, and intentions are put into experiments, the 'lap' which resembles 'lab' when pronounced in Thai vernacular allows for rooms of experiments, research, and or learning.
" แสงนวลแล็ป " ( Sangnual lap ) คือชื่อของโปรเจ็คที่เริ่มต้นในปีพศ.2561นี้ โดย ' แล็ป ' มีที่มาจากคำว่า ' lapping ' เป็นคำกริยาในภาษาอังกฤษหมายถึงการซ้อนและการทับกัน ซึ่งในส่วนของ ' แสงนวล ' ก็เป็นชื่อกิจการร้านค้าในพื้นที่อาคารแห่งนี้ โดยการอ่านคำว่า ' แสงนวลแล็ป ' อาจจะหมายถึงพื้นที่ที่หลากหลายซ้อนทับกันของแสงนวลนี้ และในอีกความหมายหนึ่งคำพ้องเสียงของ ' แสงนวลแล็ป ' อาจพ้องกับคำว่า ' แล็บ ' ( lab ) ที่หมายถึง ' ห้องปฎิบัติการ ' ที่เป็นของ ' แสงนวล ' ได้เช่นกัน